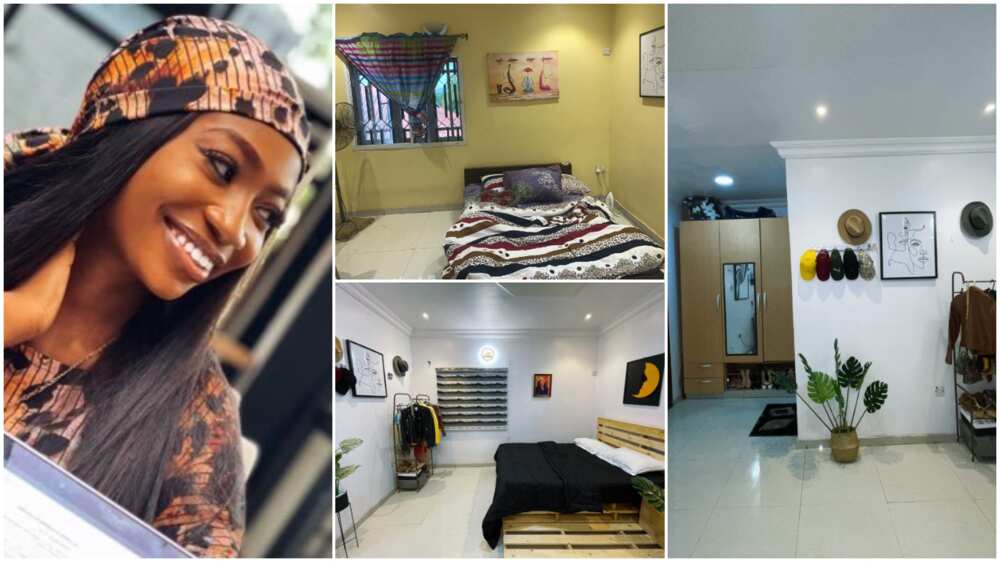 A creative Nigerian lady has shown off her interior decor skill as she shared new photos of her house. In one of the snaps, the house's walls are adorned with artworks that complemented the room's transformed look. However, the lady said her bed frame is N150,000 as she shared the contact of the person who made the piece.
A Nigerian lady with the Twitter handle @burnt__dodo has generated reactions on social media after sharing the "before" and "after" of her room upgrade.
In the "after" photo, the room walls however, have been repainted in white as stylish light bulbs were affixed in different places.
The lady's new bedframe had a side stool. They were also both painted in a wooden colour that blended well with the room's ambience.
In subsequent tweets, the lady however, shared photos of each stage of the transformation to show how every part changed.
Some of the reactions below:
@Mr_Chocobar_ said: "Please add the price so they know these high quality things cost significant money cause as a furniture maker, the way people bargain prices are crazy! and they want this quality." He replied: "Lol tbh. The bed frame was 150k."
@itz_laolao wondered: "Where una Dey see this money?"
@iamvincentdavid said: "The room is big mehn!"
@Nayess2012 said: "I love your creativity Cos am creative as well. Let's be friends."
@i_am_bellz said: "I love the Altè feel that comes with the ambience of the finished setting."
By Cynthia N.
Also follow;
https://broommedia.com/wp-admin/edit.php?post_type=post
https://www.facebook.com/broomsnews/