it was made known today that this was made known by NPHCDA in a tweet via its Twitter handle on Monday.
"Please visit the website http://nphcda.gov.ng and click on 'COVID-19 Vaccination e-registration' to register for #COVID19 vaccination," the tweet read.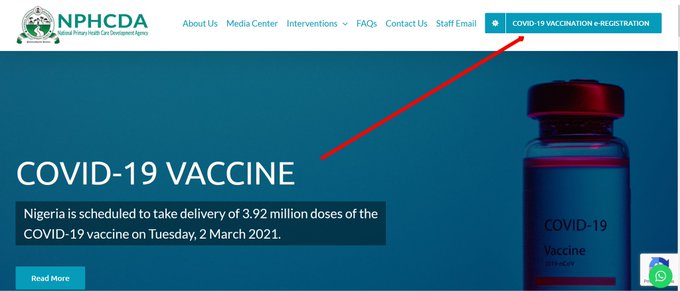 Recall that the Secretary to the Government of the Federation, Boss Mustapha, had earlier said Nigeria is expected to receive 3.92m doses of the AstraZeneca COVID-19 vaccine on Tuesday, March 2, from COVAX.
The Chairman of the Presidential Taskforce on COVID-19 said the delivery of the AstraZeneca vaccine is part of an overall 16 million doses planned to be delivered to Nigeria in batches "over the next months by the COVAX facility."
"They (vaccines) should depart India on March 1, 2021, in the night and arrive in Abuja on the 2nd of March, 2021, " he said.
Nigeria is set to receive its first four million shipments of COVID-19 vaccines from COVAX, a global scheme set up to procure and distribute vaccines for free, as the world races to contain the coronavirus pandemic.
COVAX, which was set up in April 2020 to help ensure a fairer distribution of coronavirus vaccines between the rich and poor nations, said it would deliver two billion doses to member-states by the end of 2021.
The facility promised access to vaccines for up to 20 percent of participating countries' populations with an initial supply beginning in the first quarter of 2021 to inoculate three percent of their populations.
The Nigerian government had earlier announced that the first four million doses of the vaccines would arrive in the country by the end of February.
The SGF disclosed that the UN Children's Fund (UNICEF) would be organizing the shipment from Mumbai, India, with the World Health Organisation (WHO), both backers of COVAX.