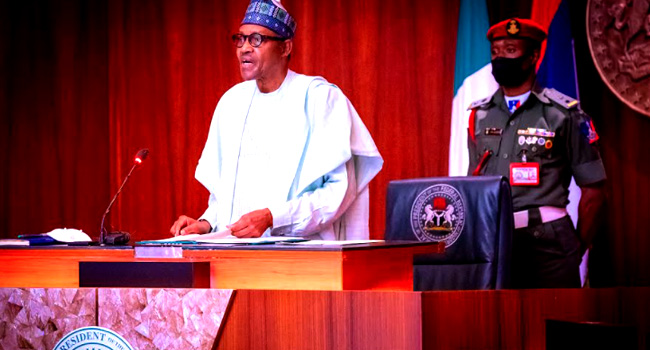 Buhari Launches Rehabilitation Railway
President Muhammadu Buhari has presided virtually over the rehabilitation and reconstruction of Port Harcourt- Maiduguri Eastern Narrow-Gauge Railway.
The newly rehabilitated railway comes with the new branch lines and Trans-shipment facilities, Bonny Deep Seaport and Railway industrial park.
In attendance is the Minister of Transport Rotimi Amaechi, Minister of Information and Culture, Lai Mohammed as well as Governors and other government top government officials.
President Buhari urges all Nigerians to take advantage of the project (which will advance contemporary demands of transport in the country)
Especially industrialists, manufacturers, and businesses within the zones in planning for expansion and building new factories to join in raising Nigeria's economy to the global stage and reaffirm our leading role in Africa.
He further notes that economic activities along the Eastern corridor, which insurgencies is currently affecting will be reactivated by the Port-Harcourt -Maiduguri railway and serve as a stimulus for industry and trade.
He explained that the connection of the railway to a new seaport in Bonny Island and Railway Industrial Park, Port Harcourt will boost transshipment of cargo and freight locally, across the West African sub-region and in the Continental Free Trade Area.
The funding of the railway will be through a loan to fund 85% of the project cost while the Federal Government contributes 15% as counterpart funding.
https://broommedia.com/wp-admin/post.php?post=2287&action=edit
https://l.facebook.com/l.php?u=http%3A%2F%2Fwww.broommedia.com%2F%3Ffbclid%3DIwAR06QfdgDleS51yYLaUHumxcmy6fDUI1_5uj5SXfi7EJAC86uXvev3QiZhQ&h=AT0beCa-BkrrSTRW8lMPq5hlCFSk24gP2r4PQEBqIRnWfy-g2P3knghbYy1C84Aoe2vWsl3kHUnQEnGORWGJDg1Q9RKKFHHC-UaohxiaCFFmRiwkKmRiR8DejqFjAeB9f2nu&tn=%2Cd