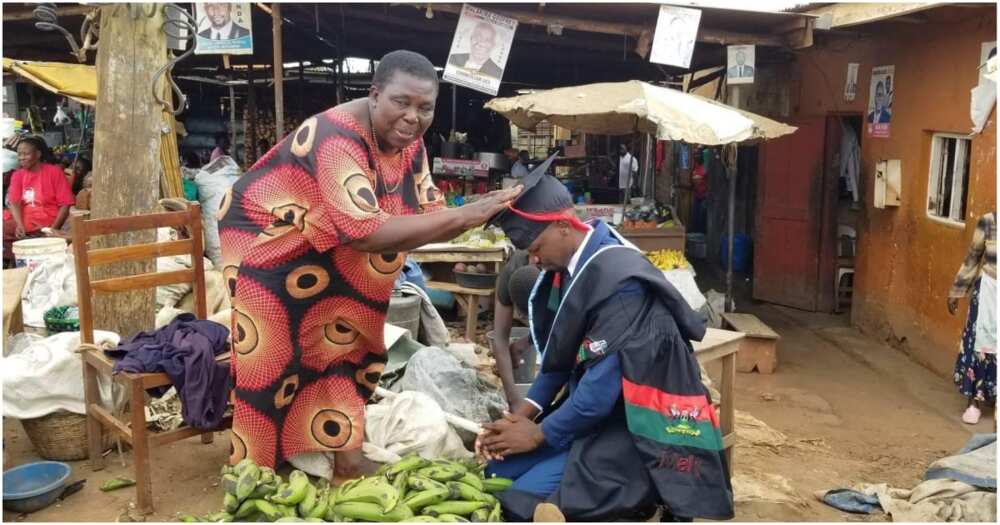 Captivating view of a Graduate Pictured Kneeling at The Market Opens up on Being Raised by Grandmother after Parents Abandoned Him
Edward Raddy Kasenge was on Tuesday, May 25, showered with praises for his humility across the continent after
photos of him kneeling in front of his grandmother at the market went viral.
Kasenge had just graduated from Makerere University with a Bachelor's Degree in Industrial and Organisational
Psychology, Human Resource Management and Personnel Administration, General.
Speaking during an interview with NTV Uganda on Friday, May 28, Kasenge disclosed he just wanted to appreciate
his grandmothers' commitment and sacrifices to ensure he finished school.
"In a special way, allow me to congratulate the ladies behind my academic journey and success," he captioned
photos of him and his grandmother in the market. "Thanks a lot for standing by my side every time I needed you. May God bless you so much," he added.
Abandoned by his Father and Mother
The graduate further revealed he was abandoned by his mother and father when he was only one year old. His two grandmothers then took the responsibility of taking care of him but things were not easy for them. They passed through a lot. The grandmothers were forced to borrow money from different microfinance to raise his school fees as one is a food staff vendor at Kitunzi market in Lunguja while another one sells charcoal.
According to him, they never gave up even when Kasenge failed twice; in O level, he was supposed to repeat senior two but was later promoted after the director learnt of his background. He again failed senior six and was asked to join a technical school, but he refused because his only dream was to join Makerere University.
The grandmothers gave him a second chance; he tried and passed with flying colours.
Kasenge is not only grateful to his grandmothers but everyone else who stepped in one way or the other just to make sure he had a comfortable life.
By Cynthia N.
Also follow;
https://broommedia.com/wp-admin/edit.php?post_type=post
https://www.facebook.com/broomsnews/