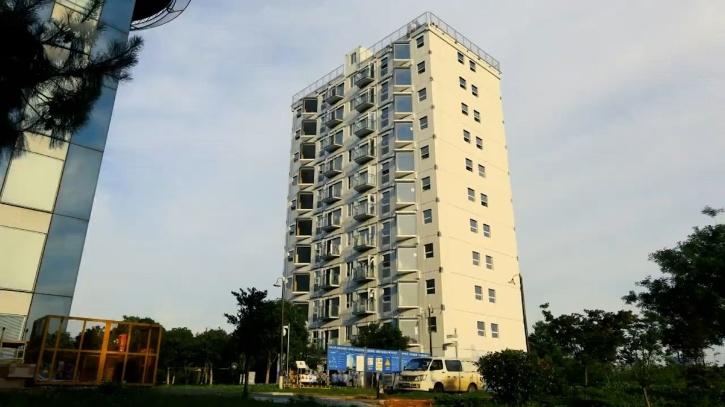 Chinese Company Constructs A 10-Storey Building In Just Over A Day
The China-based manufacturing enterprise Broad Group has managed to construct a 10-storey steel apartment
building in just over a day. Yes, 28 hours and 45 minutes to be precise. 
So, how did the manage to pull it off? It is the technology of pre-fabricated construction systems, wherein the building
is constructed by means of assembling small self-contained modular units that were built in advance in a factory.
However, Designed to be easy to transport and install, Broad Group's "Living Building" system uses components that
are able to fit into a standard shipping container, and then be bolted together and made into a fully constructed
building. Finally, adding power and water connections
However, according to a report in CNN, Broad Group was able to construct the apartment building in 28 hours and 45
minutes in Changsha, China.
In a 4-minute, 52-second video on YouTube of the timelapse of the construction of the aforementioned building,
Broad Group wrote, "Standard container size, low-cost transportation worldwide. Extremely simple onsite installation."
As part of the system, Broad Group's B-Core steel slabs are also use as structural elements which,
the company claims
are 10-times lighter and 100-times stronger than conventional slabs.  
In conclusion, Broad Group is known for completing significant projects in double quick time. In 2015, the company
accomplished another "speed-build" challenge, constructing a 57-story tower using the "Living Building system". It was
completed in just 19 days, Construction reported. 
Chinese Company Constructs A 10-Storey Building In Just Over A Day
By Cynthia N.
Also follow;
https://broommedia.com/wp-admin/edit.php?post_type=post
https://www.facebook.com/broomsnews/