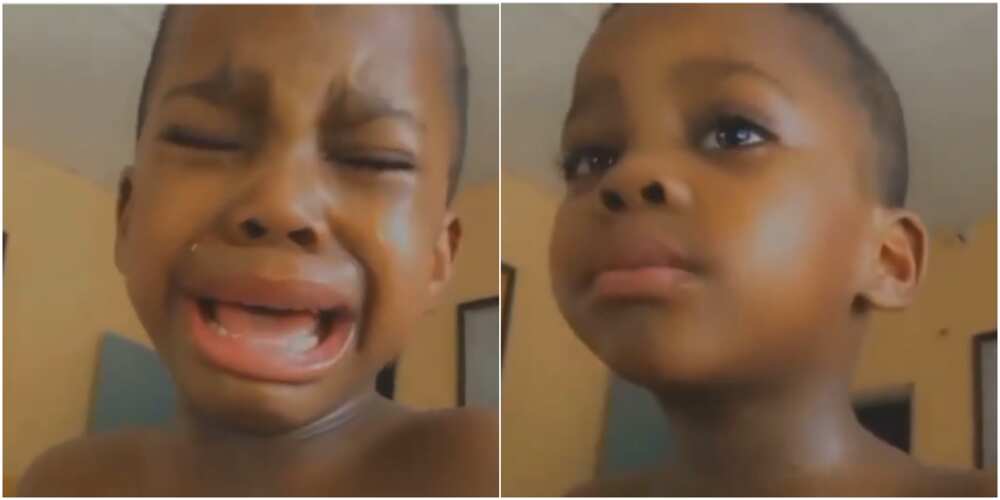 Cute Little Boy Cries Uncontrollably as Mum Says He's not Her Best Friend, Many React to Heartwarming
A video of a little boy recently went viral on social media in which he could be seen breaking down in tears because his
mum chose his dad over him. The boy's mother told him to his face that his father is her best friend despite the fact
that the little man chose the woman as his own best friend. When the boy's mother finally told him that he is her best
friend, the little man stopped crying and wiped his tears. Click on the link to view the video: https://www.instagram.com/p/CPws6FmJLwJ/?utm_source=ig_web_button_share_sheet
An adorable little boy has got social media talking after breaking down in tears because his mum told him he is not her
best friend. In a video that was posted on Instagram by Nigerian artiste and social media influencer Tunde Ednut, the
boy was heartbroken and couldn't control his outburst of tears after his mum picked his dad over him.
The little kid has his mum as his best friend and he expected her to reciprocate by choosing him as her besty, but she
chose his dad over him. When the mum realised that the little man has become emotional, she changed her mind and
finally chose him as her best friend. The boy immediately stopped crying and wiped his tears.
Many react to the heartwarming video:
@mccharleneofficial said: "Awww don't cry!!! You can be my best frieeend. Too cute, now I got baby fever."
@yetundebakare commented: "Very possessive cute little boy, he dey beef daddy."
@leeisdname said: "When they love they love for real."
@marvinagada wrote: "See as he they lick the tears, I remember those days ehh, that tears they sweet."
By Cynthia N.
Also follow;
https://broommedia.com/wp-admin/edit.php?post_type=post
https://www.facebook.com/broomsnews/