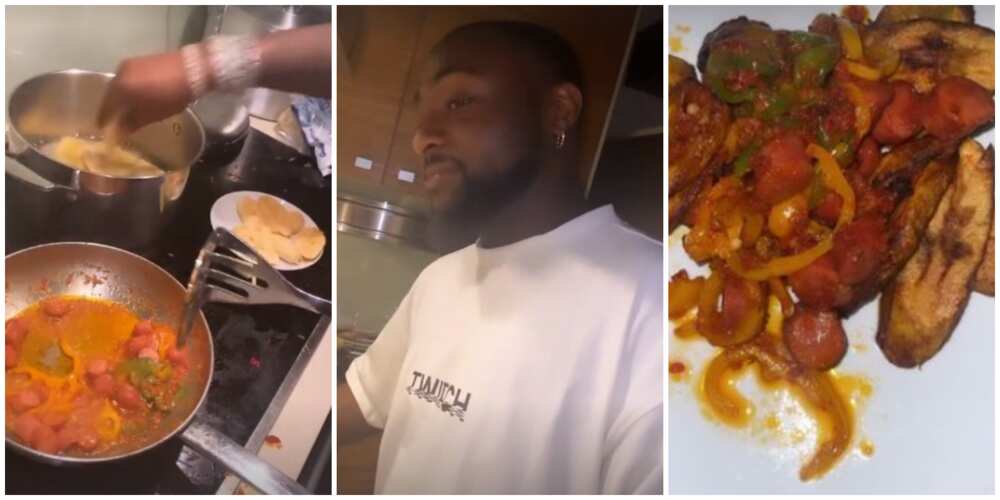 Davido Shows off Culinary Skills, Makes Plantain with Vegetable Sauce in New Video
Nigerian singer, Davido, has taken to social media to share a video of himself making some fried plantain and sausage sauce – The singer who shared the end result of his cooking, posting 'before and after dinning' photos of his plate – This comes months after his breakup with his fiancée and third baby mama, Chioma Rowland popularly known as Chef Chi
It appears baby Ifeanyi isn't the only beautiful thing Davido's romance with Chioma Rowland may have produced
as the singer may have picked up on some culinary skills.
The singer recently took to his Instagram story to share a video of himself making dodo – friend plantain – and some
vegetable sauce with sausage. In the video, Davido is seen dropping some uncooked plantain in hot oil while mixing
the sauce which he jokingly named 'e soke' – a goofier version of his tag line, e choke.
The award-winning entertainer is one of the many acts all over the world who work hard at their craft and deliver
mind-blowing results to fans. In a recent tweet from the father of three, he highlighted how hard their job is despite
the fact that it looks fun and glamorous to every other person. Davido also sent a big shoutout to entertainers all over the world, noting that their job is not an easy one.
By Victoria E.I
Follow also;
https://broommedia.com/wp-admin/edit.php?post_type=post
https://www.facebook.com/broomsnews/