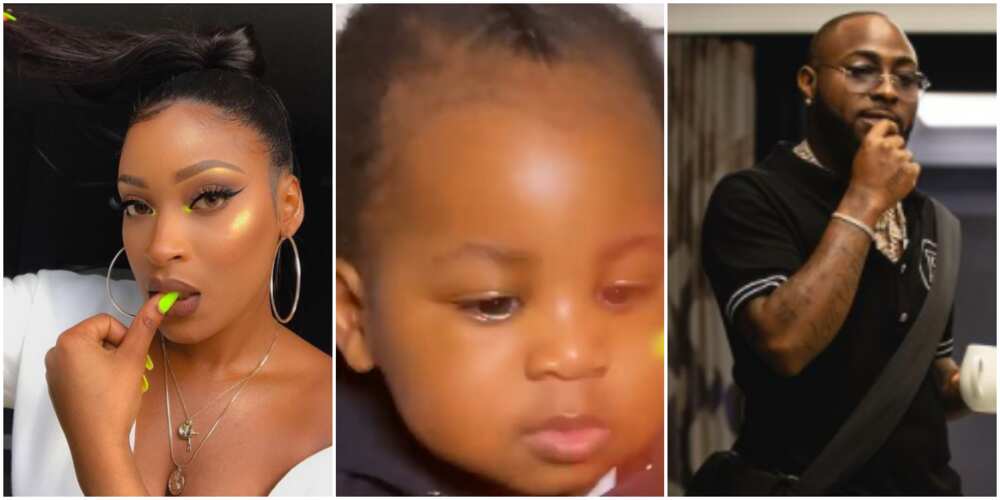 Davido's 4th Baby's Face
Davidois alleged 4th baby mama Larissa has caused quite alot of reactions on social media
The little boy nwhom she named Dawson clocked one and she showed the world what he looks like
Nigerians are however convinced that the baby belongs to Davido as the resemblance is glaring
In a video she shared on instagram page the little boy who had his hair on cornrows stood in front of a candle light that carried Number one
In her caption Larissa noted that motherhood has been her greatest honour.
The Nigerian born Singer seem to be so much in love with kids and he has seized every opportunity to express his undying love for his children
His line "i'm a loving father, to my son and lovely daughters" in Mayorkun's song Betty Butter explain this better.
However the arrival of baby Dawson has seemingly ruined his relationship with his fiancee Chioma, We can only hope that the love birds make it through this trying time together
While Fans of the duo suggest Chioma should be happy that Ifeanyi now have a brother, the reverse seem to be the case as Larissa is seen as a threat to Chioma's position.
This has not stopped the mother of one from however living her life to the fullest, she seem to be enjoying every bit of the freedom right now and her new happy self and busy hands has left fans at awe
Davido's 4th Baby's Face
By Onome F.E
Follow also
https://broommedia.com/wp-admin/post.php?post=2522&action=edit