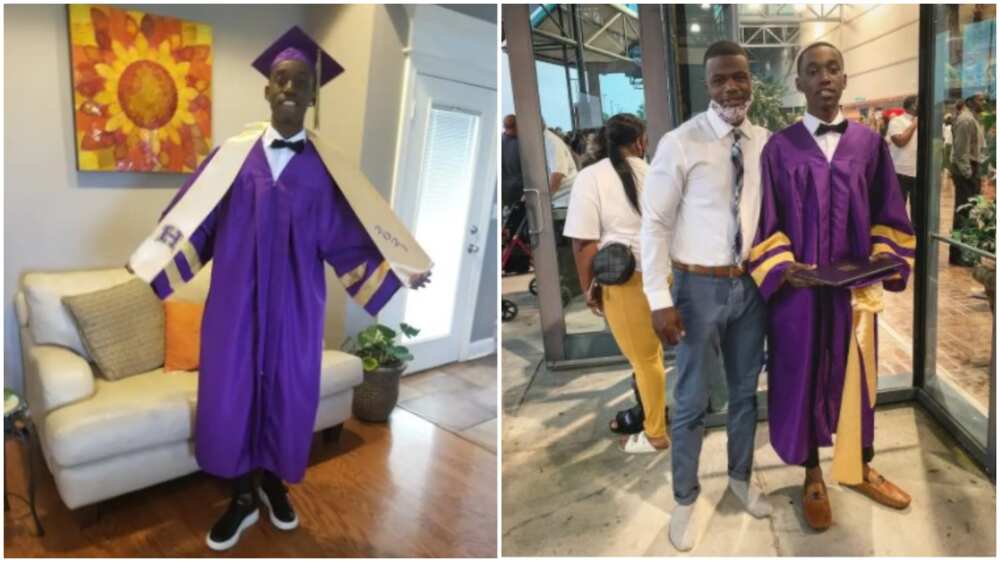 Drama As School Stops Student From Attending His Graduation Ceremony Because He Wore Wrong Shoes.
A school stopped a black teenager from his own graduation ceremony because his shoe was not part of the dress code. In reaction, Peters said that he wore the sneakers because they have the required black colour the dress rule allows. A 38-year-old teacher, Butler, saved the teen from the embarrassment of missing his graduation as he gave him his shoes.
A young man, Daverius Peters, on Wednesday, May 19, was blocked from gaining access into his school's graduation ceremony. Despite the fact that the boy was wearing the expected purple cap and gown, a school official at the door
told him he has the wrong shoe on.
It should be noted that the school authority had spelt out that no athletic shoes are to be worn to its graduation
ceremony.
However, on the said day, the teenager arrived even with black leather sneakers that have prominent white soles. Speaking with
the media, Peters said he thought he could wear them since the colour of the footwear matches the dress code.
He was however, stopped at the door and was overwhelmed with a great feeling of humiliation. He said that he was really shocked too.
Mr Butler saves the day
A 38-year-old black teacher, Butler, came to the rescue as he had to let go of his
own shoes for Peters even after appealing to the school official to let the teenager in. He said: "It was a no-brainer. This
was the most important moment in his life up to that point, and I wasn't going to let him miss it for anything." Peters'
parents were really happy for what Butler did, saying his act of love was a very thoughtful one. They however added that the public school system needs more teachers like him.
By Cynthia N.
Also follow;
https://broommedia.com/wp-admin/edit.php?post_type=post
https://www.facebook.com/broomsnews/