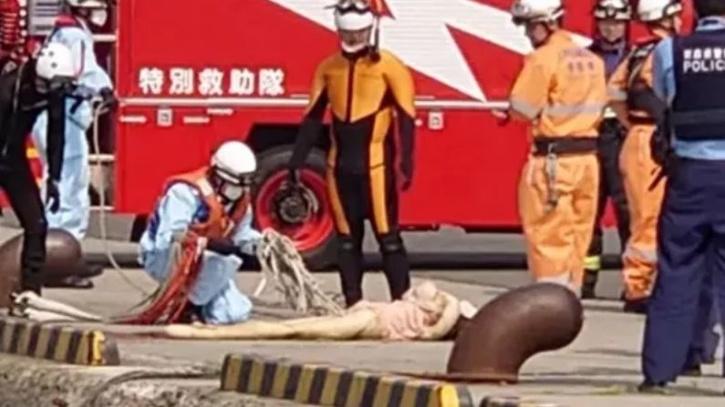 In a bizarre incident, Japanese authorities rushed to Save a Woman from drowning, before pulling her to safety and
discovering it was actually a floating life-size sex doll.
The incident reportedly took place on Friday, thereby posting on Twitter by YouTuber Natsuki Tanaka, who had
initially believed she was witnessing a real-life rescue in the city of Hachinohe off Japan's northeast coast, Kotaku
reported. "While I was filming for my fishing video, I thought that a corpse had come floating by, but it turned-out to
be a Dutch wife," using a common name for the dolls," Natsuki tweets, originally in Japanese and translated by
Google.
It all began happening when a good samaritan passerby had mistakenly phoned the authorities over the "drowning"
woman, prompting the police and also fire departments — and an ambulance to arrive, ready to rescue what they
thought was a person in peril.
However, As per Natsuki's photos, featured above, show multiple fire and rescue brigades, police, and an ambulance
working to rescue the dummy from the water in front of a crowd of onlookers.
Thankfully the adult toy was "rescued safely," according to Natsuki.
Twitter user @PowerSportsVoW was one of the onlookers at the scene and also captured the incident. "Off Hachinohe,"
they wrote alongside an image of the doll being pulled from the water. "iIlegal dumping of oversized garbage," they wrote.
"Thank you for your hard work," they concluded with a police officer emoji. (Again, in Japanese, yet translated by Google.)
In conclusion, As per the report in Kotaku, this is not the first time a suspiciously placed sex doll has been confused for
a corpse. In 2018, they mistook a sex doll for a "body" in Colerian Township, Ohio.
By Cynthia N.
Also follow;
https://broommedia.com/wp-admin/edit.php?post_type=post
https://www.facebook.com/broomsnews/