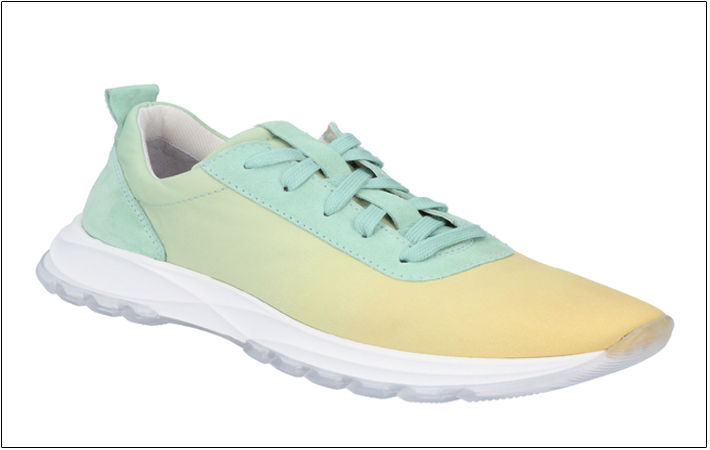 Gerry Weber, a German fashion group, has announced that it is banking on strong sneaker trends for the spring-
summer 2022 collection. Inspired by more modernity, the retro and white sneakers shine with new accents, while other
sneakers include eye-catching patterns and ugly sneakers with subtle soles, to ensure individual style in terms of
trends. The group said that whether made of leather or canvas, with a platform sole or as high-top model, sneakers
have a higher share in its collection. "In the retro sneakers, the reinterpretation of the popular lace-up shoes impress
with a striking mix of materials in which different types of leather, such as smooth and suede, are combined with one
another," the company said in a press release. "
In Addiction
The flat rubber sole is particularly non-slip, waterproof and flexible and ensures a comfortable fit. The trend is rounded off by a typical mix of colours, such as red, blue, green and beige, combined with the trend colour white.
The casual all-rounders are still among the successful long-term favourites among shoe models." "Ugly And Chunky
sneakers inspire us in the new SS 2022 season with their cool, voluminous look.
The trendy, characteristic sole makes the trend sneaker an eye-catcher. The high outsole and the reinforced toe
and heel area ensure extra surefootedness. New colour combinations such as white with beige or vanilla with mint are
very modern," according to the company. "The latest shoe trends definitely include running sneakers, which have
become an integral part of stylish athleisure wear, whether in everyday life or in leisure time. The sneaker trend fits
dynamically and functionally with almost every outfit, from romantic dresses to sports outfits," the company said in the
release. "Gerry Weber interprets the running sneaker with a coordinated mix of selected leathers and breathable mesh materials."
By Victoria E.I
Follow allso;
https://broommedia.com/wp-admin/edit.php?post_type=post