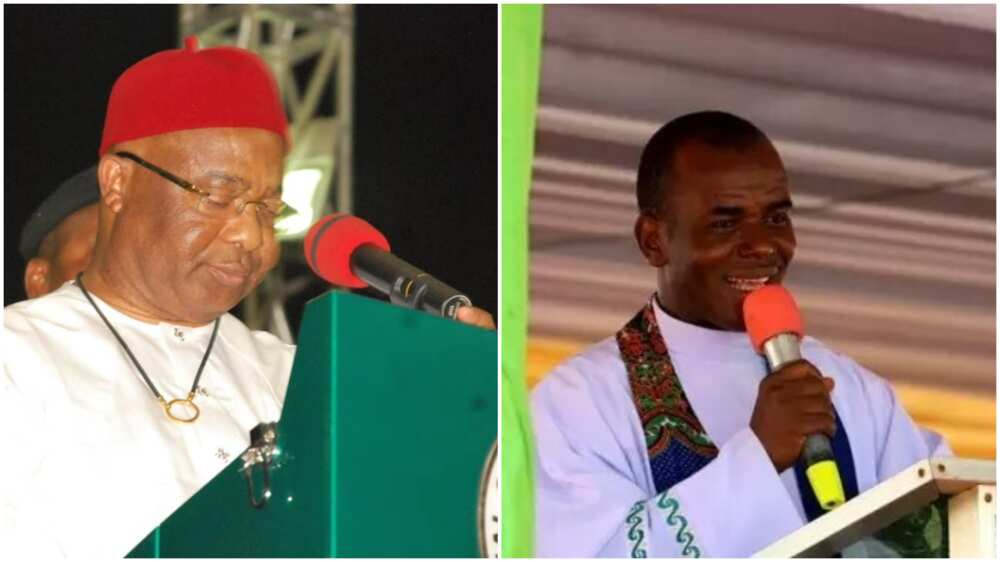 Popular clergyman, Father Mbaka, has commented on his relationship with Imo governor, Uzodinma, and the recent happenings in the state
The cleric said Uzodinma no longer answers his phone calls and does not heed his advice since becoming Imo governor
Recall that Mbaka in 2020 prophecied Uzodinma would be Imo governor even though he lost the 2019 election
Father Camillus Ejike Mbaka, the spiritual director of the Adoration Ministry,
says the governor of Imo state, Hope Uzodinma, does not pick his calls again.
The popular pastor is the one who prophesied in his 2020 New Year message that Governor Uzodinma will in governornance,
even though he lost the governorship election to Emeka Ihedioha of the Peoples Democratic Party (PDP).
The prophecy eventually came to pass as the Supreme Court sacked Ihedioha and declared Uzodinma of the All Progressives Congress (APC) as the validly elected governor of Imo state.
However, months after becoming governor, Father Mbaka said Uzodinma does not pick his calls again even though his aim of calling was to advise him about good governance.
Father Mbaka Spoke To BBC Igbo-Gov Uzodinma Is Making Mistakes
He said in a video published by BBC Igbo: "It's not that I'm asking for money, it's that I should advise him for good governance."
Father Mbaka adds that since his swearing in, Imo governor, Uzodinma "did not call to give glory to the God of Adoration Ministry"
"I don't know about Governor Hope Uzodinma anymore o." The clergyman said Governor Uzodinma is making expensive mistakes.
According to Mbaka, the security breaches ongoing in the state would not have happened if the governor has good advisers.
He said prayer would have helped to prevent some of the security breaches. "This is one year, by the end of four years what will happen."
The violence got to a peak on Saturday, when armed criminals launched an attack on the home of Governor Uzodinma.
The criminals razed a lot of properties, including cars in Uzodinma's home Omuma in Oru East local government area.
They however, killed three security operatives.
Follow also:
https://www.facebook.com/broomsnews/
https://broommedia.com/wp-admin/edit.php?post_type=post