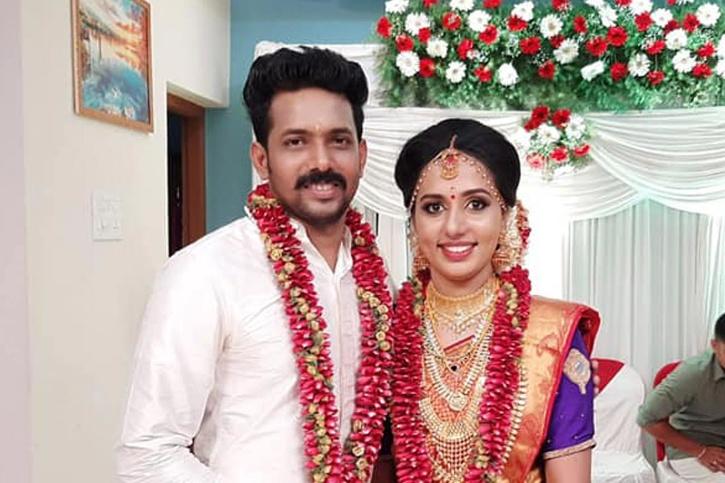 100 sovereigns of gold, more than an acre of land and a Toyota Yaris car, were the 'gifts' the family of Vismaya Nair, a native of Kerala's Kollam district gave her at the time of her wedding in March 2021.
But for Kiran Kumar, who works as an Assistant Motor Vehicle Inspector at the Kerala Motor Vehicle Department, the
car was not up to his status and wanted a better one, or Rs 10 lakh in cash.
Abuses became so unbearable
So, Kumar who initially said he wanted noting as 'dowry' began harassing and physically abusing his wife.
The abuses became so unbearable to the point where Vismaya was living with her parents just a few months after the wedding.
"He did not like the car and wanted Rs 10 lakh as cash instead of it. As I said it was not possible, he used to torture my
daughter. He had beaten Vismaya in front of us after coming to our home during midnight last January," her father
Thrivikraman Nair alleged.
Though a police case was filed against Kumar, Vismaya's family agreed to withdraw it after negotiations. 
Since then the final-year BAMS student was living with her parents, but just before her exams started Kumar convinced
her to return to him and, the 22-year-old against the wishes of her parents left for her in-laws' house.
After she returned to his house, Kumar once again started torturing her over the issue of the car and even barred her from speaking to her parents.
Vismaya's mother Sajitha alleged that Kumar did not want her to write the final-year exam and refused to pay the fees, after which she begged her mother to give her the money
Vismaya's Death
On Sunday night, Vismaya sent a series of WhatsApp messages to her cousin, describing her plight.
In the chat, Vismaya alleged the Kumar was abusing her both physically and mentally. She even sent photos of bruise marks on her body allegedly from the torture.
Hours later, on Monday morning Vismaya's family received a call from her in-laws' house saying that their daughter was admitted in a hospital.
But when they reached there, the family was told that Vismaya had died by suicide.
Her father, however, said his daughter would not have taken this drastic step and suspected that Kumar might have murdered her.
Based on the family's complaint, Kumar has been arrested by the police and a probe is on into the allegations.
By Cynthia N.
Also follow;
https://broommedia.com/wp-admin/edit.php?post_type=post
https://www.facebook.com/broomsnews/