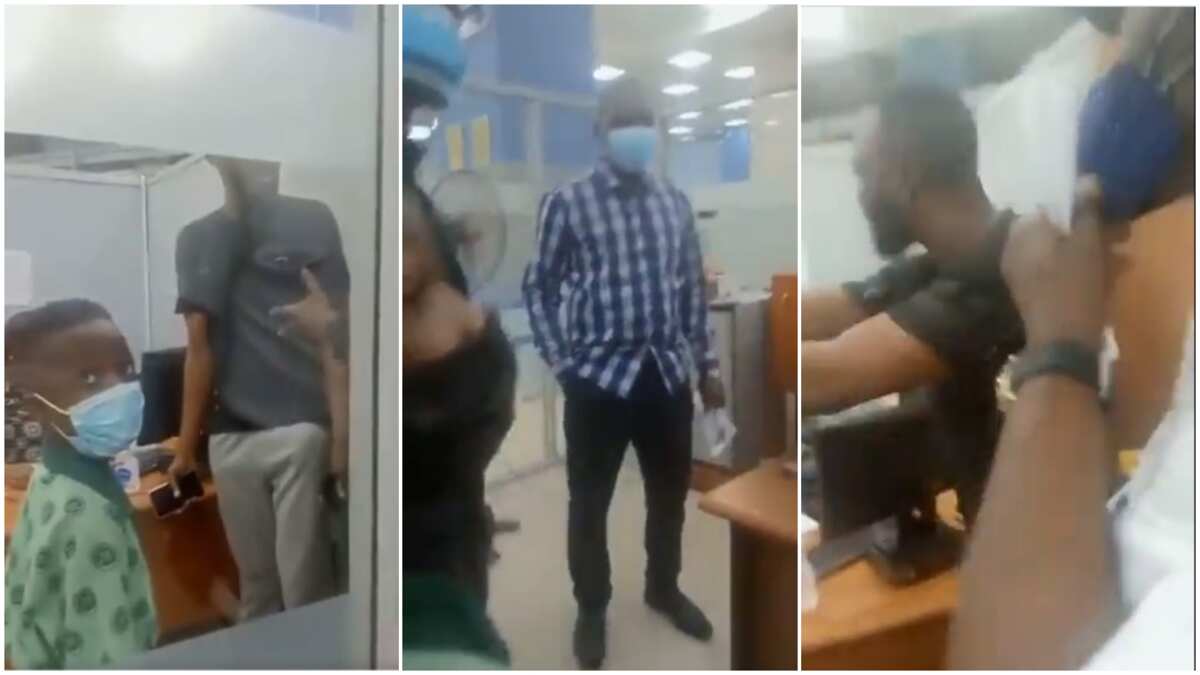 The video of a Nigerian man disrupting a bank operation over an alleged withdrawal of N300,000 from his account
has stirred massive reactions on social media. Posting the clip on Twitter, a Nigerian identified as Gbemi Dennis said
the man's complaints have been unattended to for almost a month.
In the short video, the man who brought his children to the said bank said the kids have been sent out of school
and there is no money to pay their fees.
He went ahead to also say that he has been lodging ceaseless complaints at the bank, asking them to fix the issue all to
no avail. However, a security man tried to calm the man down without success. Seconds after, the man stormed out of an
office into the banking hall as he divested himself of his cloth, saying no service will hold. Follow @GbemiDennis or click on the link https://twitter.com/GbemiDennis/status/1395630968308908033?s=20 to watch video clip.
While many said Nigerian banks needed to do better in quickly resolving issues, there were some who argued that
the man may have been the cause of it all by being careless with his card details.
Here are some of the Reactions:
@Bunda_lurvah said: "I'm keeping my money in the bank so it's safe. Why will my money leave my account without
my knowledge and they won't do anything about it. See how unconcerned the woman is, it's pis*ing me off."
@Sby107 said: "The anyhowness and I don't care attitude of most employees bother me… See the way the lady
ignored him. Your Customer??? Nigeria gets depressing by the day but if Dangote goes there to make a complaint,
All of them will be on their toes forming Empathy… Fake ppl everywhere."
@MrTifey said: "You should rather have the full understanding of the issue before you begin to draw blames. It
could prolly be a transaction on his account as regards him divulging his card details or a myriad of other reasons."
By Cynthia N.
Also follow;
https://broommedia.com/wp-admin/edit.php?post_type=post
https://www.facebook.com/broomsnews/