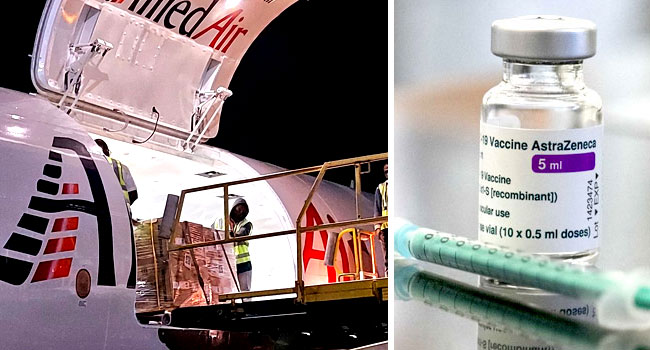 Lagos Govt Receives Vaccines
The Lagos State government has received doses of the Oxford-AstraZeneca COVID-19 vaccines from the Federal Government.
Governor Babajide Sanwo-Olu disclosed this on Tuesday at an event held at Police College in Ikeja, but he did not reveal the figure of vaccine doses delivered to the state.
The event organised is the Ministry of Women Affairs and Poverty Alleviation to commemorate the 2021 International Women's Day.
In his remarks, Governor Sanwo-Olu revealed that the state government received the vaccines at about 4am on Tuesday, noting that they have been kept in a safe place.
He assured the people of the state that the government would soon commence the vaccination exercise.
The governor stated that this would be carried out in line with the scheduled guidelines laid down by the National Primary Health Care Development Agency (NPHCDA).
He, therefore, appealed to the residents to continue to keep to all the COVID-19 protocols such as wearing of facemasks, washing and sanitising their hands, as well as observing social distancing.
The Senior Special Assistant to the Governor on Health, Oreoluwa Finnih, shared a photo and a video of the delivery of the vaccines on Twitter.
Lagos Govt Receives Vaccines
https://broommedia.com/wp-admin/post-new.php
https://l.facebook.com/l.php?u=http%3A%2F%2Fwww.broommedia.com%2F%3Ffbclid%3DIwAR0iofhmBzXkxlc5limgBG7wJul_wM1e3L_R4mAmWuEnqiyNdkkliP3Izf8&h=AT07Yq2fdtYibBCkDac94xbz7vdLuQyh7Gb7w1PteWTZhrlNKkGgFqIwRECfaCoMSHMr_OI7yJPEol2sSgJwfPT2ONuRncMeSd3MojX6U-BmExA9AK30jobZkW5B6_zGNqch&tn=%2Cd%3C%2CP-R&c[0]=AT2Drdnv8uGq0RVy_QLQeQ5K1Hgd_l7YA7hfXW5fjYZkoNq29PHu8Ish_aflCcWE-Vsb3xl0yrZeLm9I8zMTNWNL0t_xhzUYnE8rs3BftQb7QBNB-GjXy8Fvz7i9TEEhgVR0LB4oSleYx_mdA5UIT9UhLvoHNt6qoWqfy3L_SxFyKl2B5w