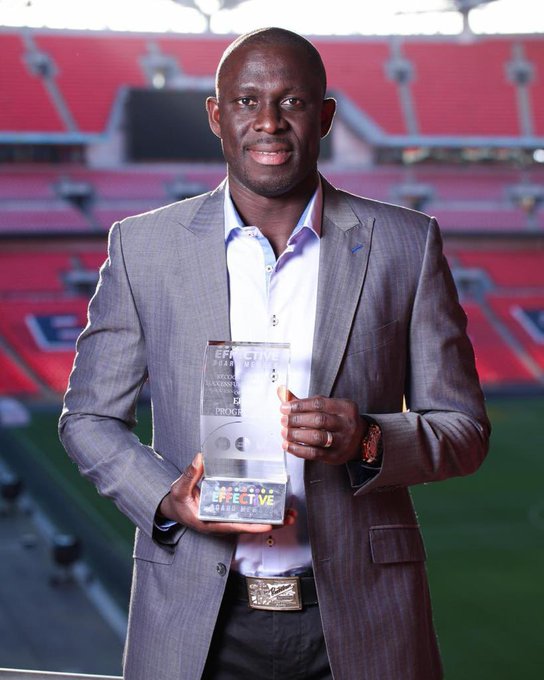 Legend of Super Eagles Lands Big Appointment at Top European Giants, Makes Big Statement
After leaving English club Wolves in April 2021 as one of their managers in the Academy, former Super Eagles
attacking midfielder Seyi Olofinjana has been appointed technical director at Grasshopper Club Zurich.
The Swiss club recently promoted to the top flight and they need an experienced football administrator in directing
the affairs of the side before the start of the coming season.
While announcing the appointment of Seyi Olofinjana as their technical director on their official website, the club
enjoined the former Nigerian football star to help the side with his experiences.
However, responding to his new position at Grasshopper Club Zurich,
Seyi Olofinjana stated clearly that he is happy
to be
appointed as the technical director and however promised to do his best for the growth of the side.
"I am happy to be part of a club with a history like GC. I hope together we can re-establish GC at the top of the
Super League."
Appointment at Grasshopper
Speaking on the appointment of Seyi Olofinjana at Grasshopper Club Zurich, Liverpool striker Taiwo Awoniyi also
expressed happiness and wished the former Super Eagles star the best.
"This is one of the happiest news of my life and I am so glad that my boss and brother is moving because he
deserves all the goodies in football as far as I am concerned. "If not for Seyi Olofinjana and God, I would not have
made it in football and therefore, my talents would not have been noticed by anyone.
"Olofinjana gave me the chance to show the world my games at his Academy from where I was selected to play for
the national team and also won the Under 17 World Cup. "He also made sure that a poor boy like me got signed by
Premier League club Liverpool and I will forever appreciate Seyi Olofinjana for this. Good luck my boss."
By Cynthia N.
Also follow;
https://broommedia.com/wp-admin/edit.php?post_type=post
https://www.facebook.com/broomsnews/