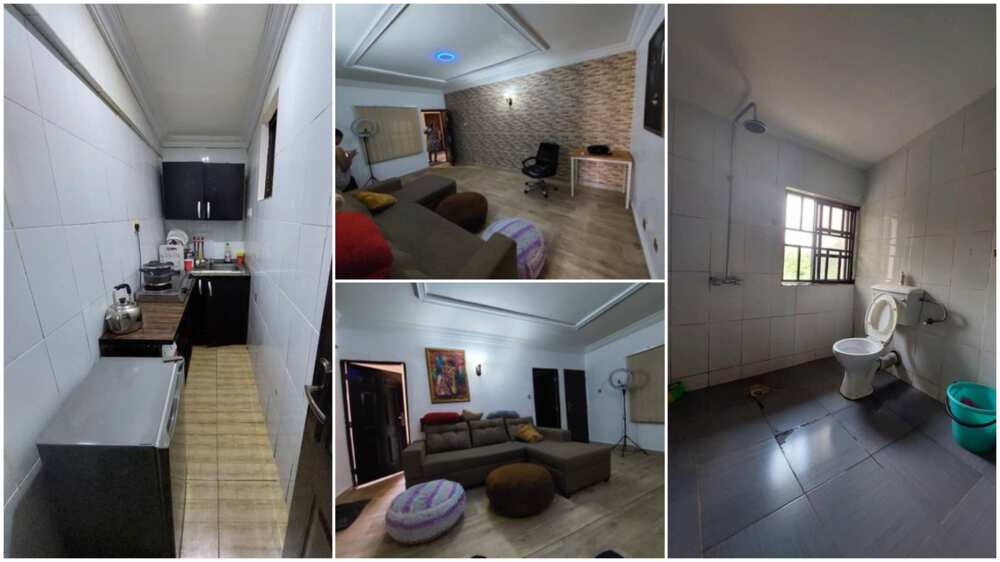 Massive Reactions as Photos of 1 Bedroom Apartment That Goes for N1.6m Rent in Abuja
The rent cost of a bedroom house in Gwarinpa area of Abuja has stirred up a lot of concerns on Twitter. Putting the first annual pay at N1.6m, the house agent said that the money also covers all the pieces of furniture and items in the house. It was further revealed that everything in the apartment becomes the occupant's own after the first year's rent
It also revealed that whoever pays the rent takes possession of the items as the first owner who bought them brand new is relocating abroad. Nigerians who loved the apartment had so much to say about it. While some wanted to know more, there were others who complained about the size of the kitchen.
Here are some of the reactions on twitter:
@tam_godwin said: "A toilet bigger than the kitchen."
@asaina said: "The kitchen should relocate to the toilet and vice versa."
@fhatoh_s said: "Is like the bathroom and kitchen switched places though."
@omoba_007 said: "Toilet bigger than kitchen… Abuja Architects."
@thecheffej said: "Extra large restroom, tiny kitchen. Priorities."
@Chief_Moze said: "What kind of wickedness is this, jumbo sized toilet with meagre sized kitchen. Architectural error."
@beeola_ said: "What kind of kitchen is this. I'll be having this fear that it will close up on me."
By Cynthia N.
Also follow;
https://broommedia.com/wp-admin/edit.php?post_type=post
https://www.facebook.com/broomsnews/