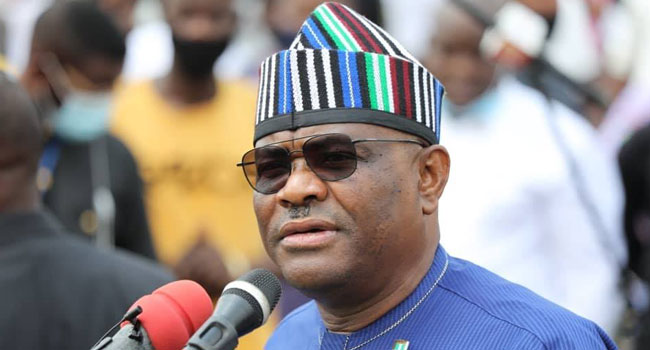 Governor Nyesom Wike of Rivers State on Wednesday attacked the ruling All Progressives Congress (APC) for the delay in amending the Electoral Act, saying no reasonable citizen of the country would want the party to retain the presidential seat in 2023.
The former education minister claimed that Nigerians have lost confidence in the APC
and further accused it of frustrating moves to amend the Act.
"Amending the Electoral Act would be a giant leap forward for the country as it would lead to free, fair, and credible elections," Wike tweeted on his official handle,
doubling down on his claim that the ruling APC is afraid of losing the presidential seat.
"Unfortunately, we are again seeing tricks and delays because this government doesn't want it amended
so they can manipulate the 2023 elections. They know people have lost confidence in the APC Government and no reasonable Nigerian would want them back."
Wike had earlier in the year accused President Muhammadu Buhari of not signing the amended Electoral Act
because he was advised against it by the APC which felt he (Buhari) could have lost the 2019 election if it was signed.
"And of course, the President did not sign the electoral amendment Act," the governor explained.
"I am not carried away by the antics of the National Assembly. They all know what will make the country move forward. One, make the election to be transparent by ensuring that all votes are counted.
"You can achieve that by allowing the card reader to function. So that the figures recorded on the card reader should tally with the transmitted figures."
By Victoria E.I
Follow also;
https://broommedia.com/wp-admin/edit.php?post_type=post
https://www.facebook.com/broomsnews/