Senegal Suspends Two TV Channels over reporting protest activities,saying this bring so much unrest to the society.
The Senegalese authorities on Thursday suspended the signal of two private television stations for 72 hours.
Accusing them of broadcasting "in loop" images of unrest triggered by the arrest of an opposition leader.
The decision announced by the National Audiovisual Regulatory Council (CNRA) affects Sen TV and Walf TV channels
This Barn is to begin and starts from 5.pm today till 5.pm on Sunday
Senegalese police clashing with supporters of opposition leader Ousmane Sonko, arrested on Wednesday now facing accusation of breaching public order
Senegal Suspends Two TV Channels for 72 hours is a necessary precaution to take to retain law and order. According to the Regulatory bodies protest contents could incite the citizens if not properly communicated against the government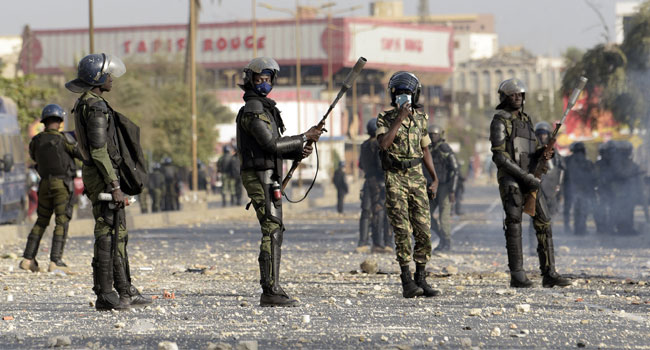 https://l.facebook.com/l.php?u=http%3A%2F%2Fwww.broommedia.com%2F%3Ffbclid%3DIwAR26z1J6bEZtDtJCR-ZAZZR4coxqig0nCzSfEfE8lIBQhpMyOIjIj1EJukA&h=AT0LG6HEYZU27ZeMqknz9tIr-LUrVs-Sh0PNYVdNaXbYw2agwWQDgkWDz_oUzl1WPwp80z-t1X7IWxB2Od6yfUuPEU7o6KW_WZU5eRQoH-u-Lp45qa6eo61F5urbIOJoV6Rq&tn=%2Cd
https://broommedia.com/wp-admin/post.php?post=2153&action=edit