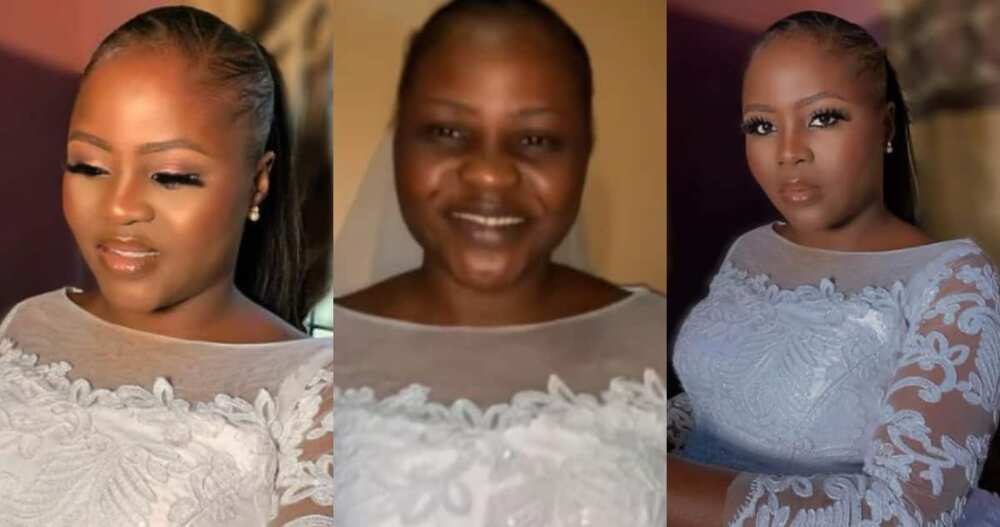 Shocking how Church Asked Beautiful Bride to Clean Off Her Makeup As It's Against Its Doctrine
A lady who was having her wedding at the Mountain of Fire and Miracles Ministries was made to wipe off her makeup.
According to the regulations of the Pentecostal church, they don't allow ladies to wear make up. Photos of
the bride before and after wiping off the masterpiece have since gone viral.
A stunning young lady was asked to wipe off her makeup before entering a Pentecostal church for her wedding
ceremony after carefully adorning herself in it.
However, sharing the story along with the pictures on the Instagram handle of the makeup artist, Peenfaces,
has since gone viral. According to the makeup artist, the lady had to clean her make-up for church service which made
her (the artist) frustrated and angry because she had to start the makeup from scratch for the reception.
Although Peenfaces admitted that there was not enough time after the church service to remake the lady up for the
reception, she was able to get her together in 10 minutes.
"We barely even have enough time for touch-ups not to talk about starting the make-up afresh. I was anxious because
I had just 10 mins to fix Her makeup, but then God came through for me," she said.
It is reported that the church where this happened is called the Mountain of Fire and Miracles Ministries, which is a
Pentecostal denomination often abbreviated as MFM.
By Cynthia N.
Also follow;
https://broommedia.com/wp-admin/edit.php?post_type=post
https://www.facebook.com/broomsnews/