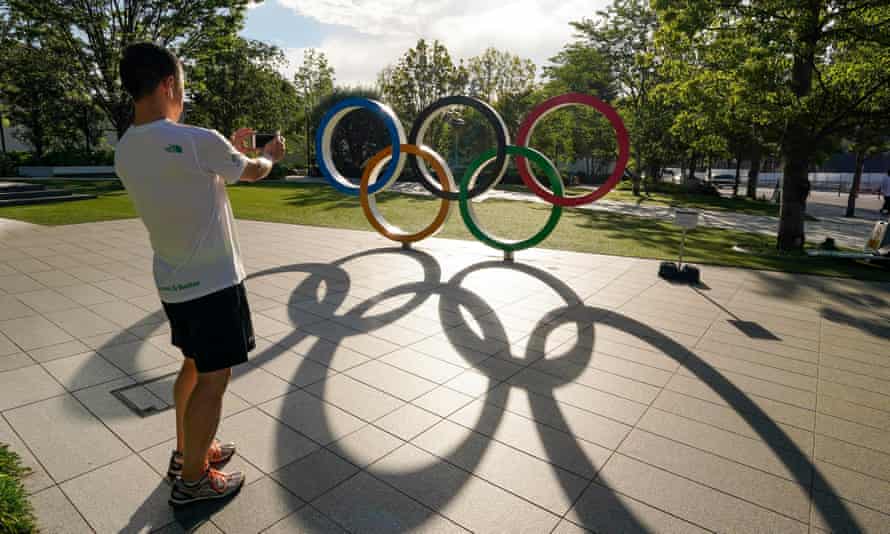 Up to 10,000 Japanese fans will be permitted at Tokyo 2020 Olympic venues, despite warnings from health bosses.
Following the ban on Overseas spectators, the organizers said domestic fans could attend providing crowds
did not exceed 50% of a venue's capacity.
Fans at the Venue
Fans are not to shout or speak loudly, and must wear face masks at all times while in venues.
The Olympics is schedule to begin on 23 July, while the Paralympics follow a month later, from 24 August.
Confirmation of Spectator numbers for the Paralympics will be by 16 July, said a joint statement from the International Olympic Committee (IOC),
the International Paralympic Committee (IPC), the Tokyo 2020 organizing committee, the Tokyo metropolitan government and the government of Japan.
The decision to allow spectators comes despite the release of a report last week by Japanese medical experts that
said holding the Games without spectators was the "least risky" and most desirable option.
"There are so many cases, domestically and internationally [of] sports events with spectators," said Tokyo 2020 organising committee president Seiko Hashimoto.
"By exercising thorough measures and based on the government criteria, we believe we can hold the Games with spectators.
"The entire world is facing the same issues and we have to work together to overcome them."
Delegates and sponsors will be classified as organisers, and therefore will not be included in the 10,000 spectator limit.
Should there be a rapid increase in Covid-19 infections and impact on Japan's healthcare systems, the five parties
will consider further restrictions.
This could include further reducing spectator numbers at venues.
There are fears that the Games may trigger a surge in coronavirus infections in Japan.
As a result, Prime Minister Yoshihide Suga last week encouraged the Japanese public to watch the Games on television,
rather than attending events in person.
there was a lift on the state of emergency in Tokyo On Sunday, five weeks before the start of the Olympics.
Emergency Covid-19 restrictions had been in place in Japan's capital and other prefectures since late April
amid a surge in infections.
However, some "quasi-emergency" measures will remain in some areas, including Tokyo, until 11 July.
On Saturday, a Ugandan athlete because the first to test positive for Covid-19 on arrival in Japan.
Analysis
Organisers say there will be a cap at each venue of 10,000 spectators. But it's a little more complicated than that, because those are spectators with tickets that they've got through the lottery system.
But there will be other groups coming in as well.
There are VIPs and corporate guests who will count as organizers, and we don't know how many of them may be attending.
There have been reports here that for the opening ceremony on 23 July, there could be as many as
10,000 VIP guests and corporate guests.
On Monday, organisers said they didn't think it would be that many – but they did acknowledge there would be more than 10,000.
There's also a students' school programme here, and that is not going to be affected by the cap.
At the moment, there is no plan to test people before they go into venues. Organisers are hoping that asking them to wear masks and to follow the protocols in place –
and reducing the number of people in stadiums and spacing them out – will be enough to prevent the spread of the virus.
What's the Covid situation in Japan?
As the Olympic Games approach, coronavirus case numbers have been falling.
On average, the report of about 1,400 new Covid infections comes every day, according to scientific online publication Our World in Data.
In mid-May, that number was more than 6,000 a day across Japan.
In the host city of Tokyo, experts have said the daily infection rate should be below 100 in order to hold the Games safely.
However, the city's health authorities reported 376 new infections on 20 June. And the average for the last seven days is 388 new cases a day, which has been stable for the last 10 days. This followed a decrease in the number of infections from the end of May, broadly matching the national picture.
The battle of a surge of new infections overwhelms hospitals in many areas the country in May, hospitals. Large parts of Japan have been under a state of emergency, giving the authorities greater powers to enforce Covid restrictions.
A mass vaccination campaign was started in Tokyo and Osaka as infections rose. But currently only about 16% of the country has been vaccinated.
By Taiyelolu A
Also follow:
https://broommedia.com/wp-admin/edit.php?post_type=post
https://www.facebook.com/broomsnews/