A great smartphone will last you for several years (at least), have a great camera, a nice screen, long battery life, and be fast enough to do all the work, social networking, and gaming you want to pack into a day. Believe it or not, all of those things are easier than ever to find in Phones— so picking the best one is often a matter of degrees or preferences.
APPLE IPHONE 12
Apple has released four different variations of the iPhone 12, more than it ever has at one time. Despite all of those choices, the traditional, regular model is still a good pick. The regular iPhone 12, which starts at around $830 for a 64GB model, is the best smartphone for most people.
The 12 has the same overall design, the same processor, the same wireless charging, the same Face ID system, the same 5G support, the same front camera, and the same main and wide-angle rear cameras as the pricier 12 Pro but for hundreds of dollars less. On top of all that, it comes in five colors, one more than you can choose from in the Pro models.THE IPHONE 12 BALANCES A BIG SCREEN WITH MANAGEABLE SIZE WELL
–
Compared to the iPhone 12 mini, the iPhone 12 has a noticeably roomier display and a bigger battery — two things that are important to many people. At 6.1 inches, it's big enough to make watching video and reading text comfortable and engaging, but it isn't so big that it's terribly hard to use in one hand or fit in your pocket. Battery life is also very good; you can reliably expect this phone to last all day without needing to charge up before bed.
In all, the iPhone 12 is an easy choice for most people: it offers top-level performance, design, and camera features, while providing reliable battery life for less money than other options on the market.
–
2. SAMSUNG GALAXY S21 ULTRA
If neither size nor price is a concern, the best Android phone you can buy right now is the Samsung Galaxy S21 Ultra. With a big 6.8-inch screen and the best cameras you can get on an Android phone, it's the no-compromise pick. In some cases, its cameras can even best the iPhone 12 Pro Max.
The Galaxy S21 Ultra comes with the latest and best specs you can get on Android. It has the latest Qualcomm Snapdragon 888 processor, which is the fastest you can get on Android. It features support for S Pen styluses if you prefer to use a pen with your phone, although it's sold separately. The screen has a high refresh rate, which makes scrolling much smoother. It also has a huge battery that will last two days without much effort.
Samsung updated the design of the S21 Ultra, with a metal rail that curves naturally into the camera bump on the back. It is the best-looking big phone you can get right now. However, we can't say we like Samsung's software as much, which at the moment is a bit cluttered and features ads in places like the weather app. For a sleeker experience the OnePlus 9 Pro would be a good choice; the Ultra beats it on screen and camera quality, but it's a good device all-around and offers a more grown-up take on Android OS.
–
That camera bump houses four cameras: a regular wide-angle with a 108-megapixel sensor, an ultrawide, and two different telephoto lenses. This makes it an incredibly versatile camera system that also has a ton of advanced video features like Pro modes and 8K recording.
Thankfully, Samsung phones are discounted early and often. If you are in the market for one, it's worth looking around for a deal before buying.
–
3. GOOGLE PIXEL 4A
If you're on a budget and prefer Android, then the Google Pixel 4A is the obvious choice. It doesn't have the largest screen or the fastest processor, but it does have a clean version of Android that's guaranteed to get software updates for at least three years. It only comes in one version: black with 128GB of storage.
The Pixel 4A's main claim to fame is its camera, which can go head-to-head with smartphones that cost $1,500 or more. That's because Google does so much of the image processing in software — the sensor itself is actually quite old and not very special. It means the Pixel 4A can take night photos, do astrophotography, and has a passable portrait mode. It can't hang with the iPhone SE for video but beats it for photos every time.
The rest of the Pixel 4A's specs are good but not great. It has a 5.8-inch screen, just enough RAM to keep apps from closing in the background, and a headphone jack. There's no wireless charging, no fancy face unlock, and the body is made out of plastic instead of something more premium like glass. The Pixel 4A doesn't even offer any IP water resistance ratings (but a splash of water is probably fine).
–
4. SAMSUNG GALAXY Z FOLD 2
Folding phones have been around for less than two years and have already seen their share of controversies. But if you are interested in buying one and are willing to pay the hefty price required, there's really only one model worth considering: Samsung's Galaxy Z Fold 2.
The Fold 2 is Samsung's second-generation folding phone. Its main premise is this: it is sized like a normal smartphone that fits in your pocket, but it unfolds to reveal a tablet-sized 7.6-inch display on the inside. That inside screen makes everything from reading books to browsing the web to watching video to playing games more enjoyable and immersive. When you're done using it, just fold it back up and stick it in your pocket just like any other phone.
That flexibility is unmatched by any other phone you can buy right now, but it doesn't come without a significant list of compromises. The Fold 2 is twice as thick when closed compared to normal phones, and its outside screen is much smaller than what you're probably used to. It is also delicate; there's no rated dust or water resistance, and its inner screen is more likely to get damaged if you poke it too hard.
If you're willing to put up with those compromises for an experience that's unlike anything else, though, the Fold 2 delivers.
–
5.  ONEPLUS 9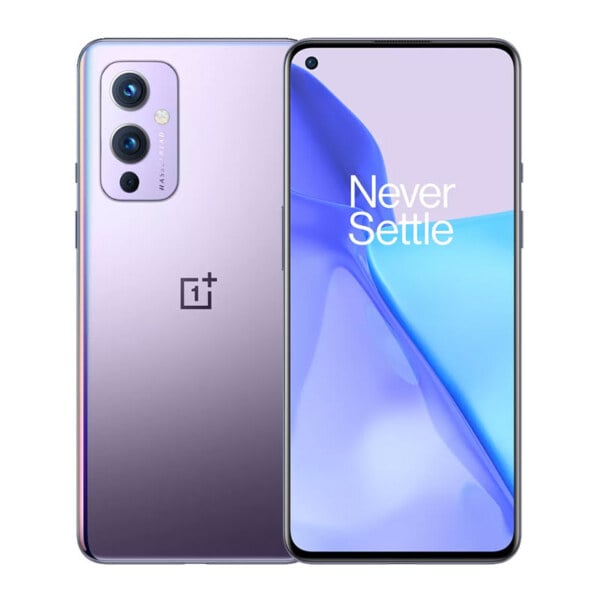 he OnePlus 9 is the step-down model from the OnePlus 9 Pro, which is itself an excellent phone. But you don't give up too much by opting for the 9, and you save a ton of money. Like the 9 Pro, it offers great performance with a Snapdragon 888 processor, fast 65W wired charging, and something that will appeal especially to the landscape photographers out there: a great ultrawide camera.
The sensor behind the OnePlus 9's ultrawide camera is physically larger than most and offers a healthy 50-megapixel resolution. A unique lens design corrects distortion without introducing the funhouse mirror-type stretching you'll often see in the corners of ultrawide images. And if super-wide photography isn't your thing, know that the main camera turns in solid image quality, too. Images are well-exposed, and colors look pleasantly vibrant. OnePlus makes a big deal of the Hasselblad color science at work here, which does a fine job but isn't as mind-blowingly good as the company suggests.
Unfortunately, you do miss out on a couple of good camera features opting for the 9 rather than the 9 Pro. The main camera on the 9 Pro offers optical image stabilization, which isn't included on the 9, and is useful for its ability to keep subjects looking sharp in lower light conditions. There's also no telephoto lens — just digital zoom, which isn't as good as the 9 Pro's optical zoom.
By Cynthia Nwankwo(Top5er)
Also follow;
https://broommedia.com/wp-admin/edit.php?post_type=post
https://www.facebook.com/broomsnews/