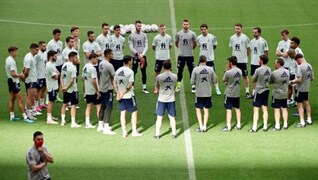 Spain's entire squad have received their Covid-19 vaccine just days before their Euro 2020 opener against Sweden.
This comes after Luis Enrique's side went into isolation after Sergio Busquets and Diego Llorente tested positive for COVID-19. The Spanish nation Spain had to field an U21 side in their friendly against Lithuania, which they won 4-0.
However, the Spanish first-team players, who misses Tuesday's warm-up match against Lithuania have gotten their first jabs at the Central Defense Hospital on Friday morning, June 11.
Busquets and Llorente have returned two negative tests each, permitting them to resume training, while Spain announces on Friday that there were no positive cases for a third consecutive day.
Speaking earlier this week, he said:
'The (Spanish football federation) president (Luis Rubiales) asked about the possibility of a vaccine two months ago more or less, with the idea of doing the whole process when the squad list was given. 
'Unfortunately, it wasn't possible. We accepted that, we didn't complain, and now there are negotiations but it's not certain still.
'As they say, things at the palace go slow. If the president and the doctors consider it necessary we will do the best thing for the national team.
'I would have liked it to have been done when it should have been done, after giving the list. We have to know that there could be side-effects.
'We would like it to happen as soon as possible because there could be symptoms and issues, and that would really be bad for someone to have symptoms after the vaccine.'
Spain will face Sweden, Poland and Slovakia in their group stage games.
By Taiyelolu A
Also follow:
https://broommedia.com/wp-admin/edit.php?post_type=post
https://www.facebook.com/broomsnews/