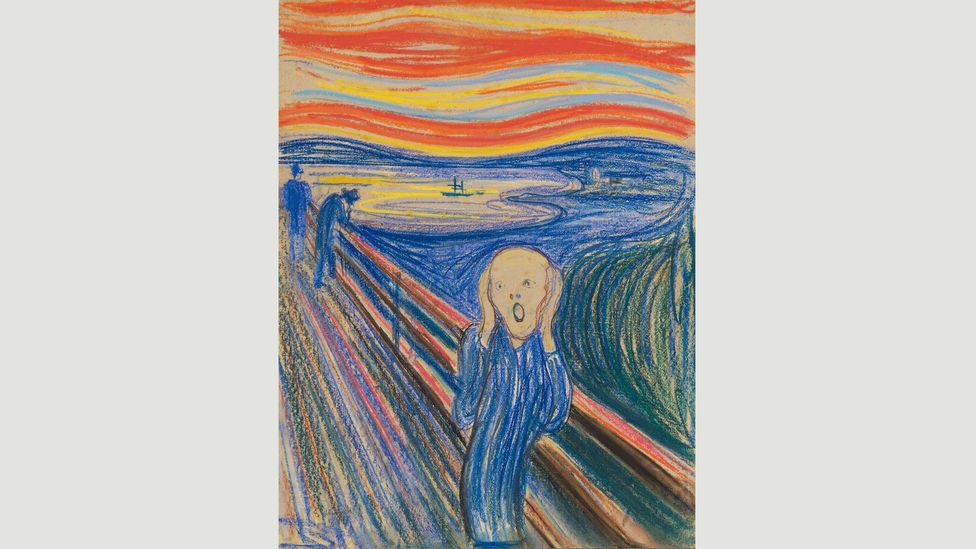 The Scream: Beneath a boiling sky, aflame with yellow, orange and red, an androgynous figure stands upon a bridge. Wearing a sinuous blue coat, which appears to flow, surreally, into a torrent of aqua, indigo and ultramarine behind him, he holds up two elongated hands on either side of his hairless, skull-like head.
His eyes wide with shock, he unleashes a bloodcurdling shriek. Despite distant vestiges of normality – two figures upon
the bridge, a boat on the fjord – everything is suffused with a sense of primal, overwhelming horror.
This, of course, is The Scream, by the Norwegian artist Edvard Munch – the second most famous image in art history,
after Leonardo's Mona Lisa.
To be precise, it is one of four versions of The Scream that Munch created in his lifetime. The earliest painted version,
from 1893, is in Oslo's National Gallery. Elsewhere in the city, the Munch Museum boasts the other painted version, from 1910, as well as a rendition in pastel from 1893.
But the version I am describing, a pastel-on-board from 1895, still in its original frame, is the only one of the four that
remains in private hands. In 2012, it briefly set the record for the most expensive artwork ever to sell at auction, when,
after 12 minutes of bidding, it fetched almost $120 million (£75 million) at Sotheby's in New York. The buyer was the
The Neue Galerie in New York
American financier Leon Black, who has now lent the work to a new exhibition, Munch and Expressionism, at the Neue Galerie in New York.
"The most prized version is the oil painting in the National Gallery in Oslo," says the art historian Jill Lloyd, who has curated the exhibition. "But the pastel version is incredible, because the colour is so vivid, so fresh, it's like it was made yesterday. In my mind, it is the most intense version: because pastel is such a free medium, you can see Munch altering lines and changing contours. So it has this unbelievably charged, vital surface, which you don't really get in the oil paintings in the same way."
The Scream also happens to be Tracey Emin's favourite "historical" painting: in 1998, she even made a film in which she
visited a Norwegian fjord and hollered for a full minute, while the camera lingered on the water. The charismatic
Serbian performance artist Marina Abramovic persuaded inhabitants of Oslo to scream in public as a tribute to Munch
. Echo Lake (1998), a sinister painting by the British artist Peter Doig, features a spectral policeman clutching his head in
the manner of Munch's Scream.
By Cynthia N.
Also follow;
https://broommedia.com/wp-admin/edit.php?post_type=post
https://www.facebook.com/broomsnews/