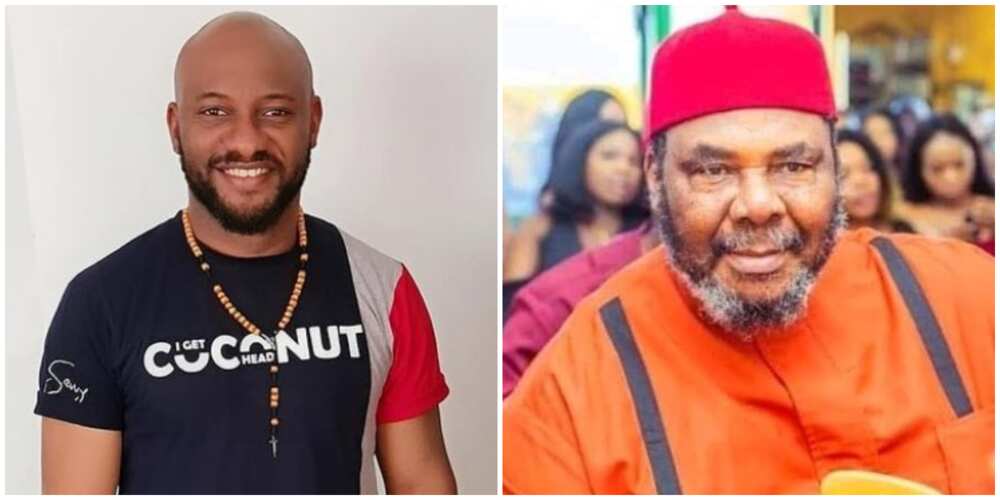 Nollywood actress, Yul Edochie, has taken to social media to praise his parents for the values they instilled in their
children – The actor who is the son of Nollywood veteran, Pete Edochie, revealed his father had only four pairs of
trousers while raising six kids, before the fame – Yul who has become a household name in the Nigerian movie
industry, recounted how his parents were keen on giving them the best training and education.
Nollywood veteran, Pete Edochie, isn't just loved for his stellar depiction of movie roles, he has also done a great job as a father and Yul, his son, has shared just how much.
The filmstar took to his Instagram page recently to share a photo of his father which he followed with a lengthy caption, giving fans a hint of what his childhood was like.
According to Yul, things weren't so rosy for them while the father worked in civil service – before going into acting. Pete, according to Yul, had only four pairs of trousers but he was content as he was more concerned about taking care of his family.
His post reads:
"At a time, while raising us his six children, this great man had only 4 pairs of trousers. Black, brown, blue and grey. But he never cared. He hardly bought new things for himself. All he cared about was taking care of his family and giving his children the best. Then he was a civil servant, before the movies came. There wasn't much money but he would never
take anything that doesn't belong to him.Then if we come back from school with anyone's pen or book, your nyash go catch fire for him hand.
Yul – who is also a father – went on to appreciate his parents for the values they instilled in them as children.
He said:
Amongst many other things, my parents taught us to be content with whatever we have, work hard, believe in God and
be upright citizens. All he kept on saying was this 'if I give my children the best training and the best education they
will survive anywhere and they'll never lack and I will be a fulfilled father'. Now that I'm older, with each passing day I appreciate you and mum so much more. Thank you. Thank you Dad. Thank you Chief Pete Edochie @peteedochie. Thank You."
By Victoria E.I
Follow also;
https://broommedia.com/wp-admin/edit.php?post_type=post
https://www.facebook.com/broomsnews/